Teija Ripattila: Memorable years on the Board of WorldSkills Europe
Teija Ripattila, Chief Training Manager of Skills Finland, served on the Board of WorldSkills Europe (WSE) for more than nine years, including two years as Chair of the Board. WorldSkills Europe is the organisation behind EuroSkills competitions. In her writing Teija describes experiences that she has had in the past years.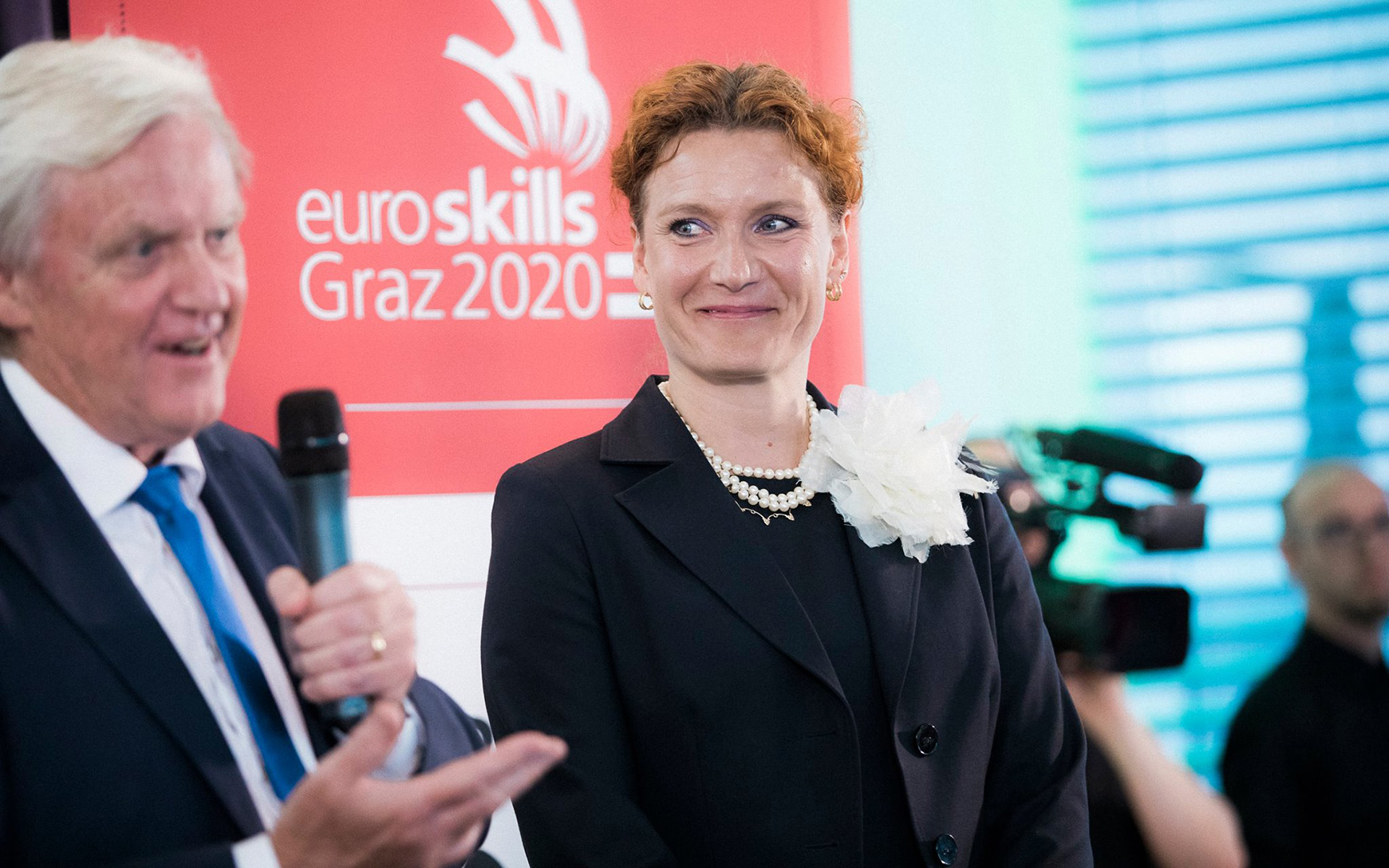 Nine years have consisted of many new memories and experiences. Pictured Teija Ripattila in 2017 at the signing ceremony of EuroSkills Graz 2020 Competition. Alongside Tommy Hällström from Sweden.
I have more than nine years of work with WorldSkills Europe behind me. I am very grateful and happy for this experience and for all the people I have been able to work with in recent years.
My work on the Board began in 2014 when I was chosen to be the Board's Strategy Officer. In this post I followed in the footsteps of Eija Alhojärvi. Eija, former CEO of Skills Finland, is one of the founding members of WorldSkills Europe. The first year on the Board largely involved learning how things are done. When I had mastered the whole, it became easier to go out and act as my own self and in my own style from the angle of a vocational teacher. In an international organisation the representatives of different countries and their cultural differences provide a pleasant flavour, yet some challenges to the work as well.
Over the years I have noticed that Finnish professionalism, calmness, and ability to see things from different perspectives are reasons why we are appreciated around the world. For this reason we are in demand for challenging tasks in the Skills world as well.
WorldSkills Europe did not have a secretariat of its own in 2014; its organisation was led by Jos de Goey, CEO of WorldSkills Netherlands. The Board of WSE moved the organisation forward together with the secretariat of the Dutch national skills organisation.
In 2017 the WSE Board underwent a reshuffle and Dita Traidas from Latvia was elected the new chair. Meanwhile, WorldSkills Europe got a new secretariat, and Maria Atzmon from Skills Finland joined its staff as a part-time employee. The organisation began to grow and develop under the leadership of CEO Laurence Gates. This allowed members of the Board to focus better on the strategic planning of the organisation, leaving practical work to the Secretariat.
Taking the chair in exceptional conditions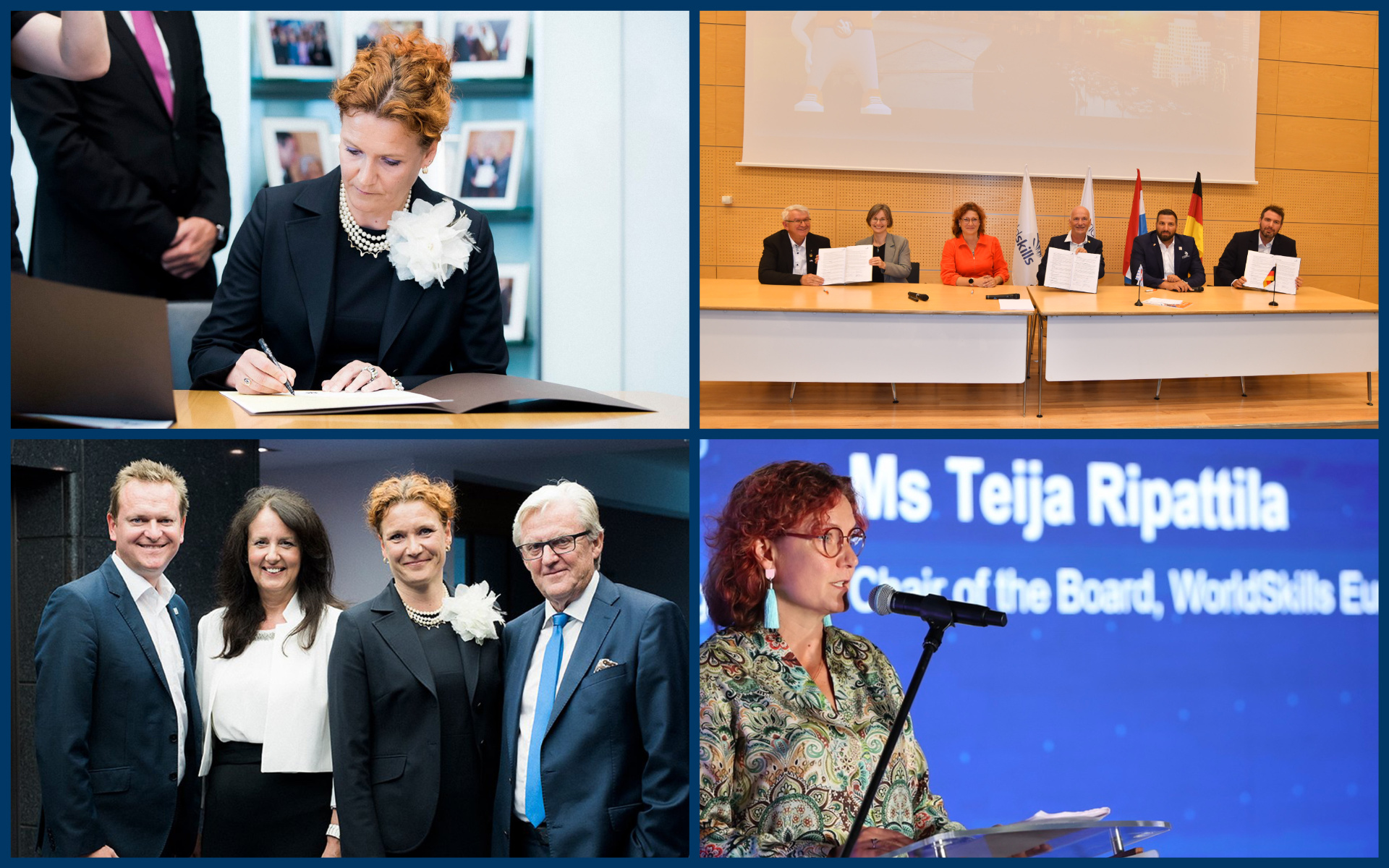 Upper row, left: As Chair Teija has signed several contracts. Upper row, right: Signing of EuroSkills 2027 in Luxembourg/Dusseldorf. Lower row, left: Teija with Harald de Negro and Angelika Nedilek from Austria and Tommy Hällström from Sweden. Lower row, right: Working as Chair has made Teija enjoy giving speeches.
EuroSkills Graz 2020 had been scheduled for September 2020. When the coronavirus pandemic locked down the world, we decided to postpone the competition by a year. Another significant case in the same year was when we finally included sustainable development in the strategy of the organisation.
EuroSkills Graz 2021 was held regardless of the pandemic. The Board convened every two weeks during the summer, and at each meeting we had to consider at which point the competition could still be cancelled if the coronavirus situation got worse. The competition was carried out thanks to Austrian expertise and perseverance, showing us how it is possible to organise a coronavirus-safe event.
After the EuroSkills competition in Austria, I was named Chair of the WorldSkills Europe Board. My main task was to revamp the organisation's administration.
We were all happy, but tired when the event in Austria was over. We started preparing for EuroSkills St. Petersburg 2023 thinking that the pandemic would soon be over, and we would reach a new normal. Little did we know at that point. Russia's attack on Ukraine in February 2022 made it immediately clear that the next competition would not be held in Russia.
In the spring we held several Zoom meetings with our member countries: we wanted to continue with the administrative changes, but we were also looking for a country that could replace Russia as a competition host. At the General Assembly held in Poland in June 2022, members approved the proposal for administrative reform, and named Poland as the host of the EuroSkills competition in 2023. My term on the Board was supposed to end with this meeting, as I had reached the eight-year maximum, but the members asked me to continue through the 2023 competition. A race against time ensued.
EuroSkills 2023 made the impossible possible
The competition organiser normally has four years to arrange the event. Now Poland had just 15 months. Through that entire time the Polish competition organisation pulled out all the stops, working with the WorldSkills Europe Secretariat and Board to ensure that the competition could be held in September 2023. I will always remember this competition as evidence of how the impossible can be achieved if people work together, and value the skills and knowledge of others. I raise my hat to the Polish EuroSkills 2023 organisation and the WorldSkills Europe Secretariat!
My term ended in 2023 with the conclusion of the EuroSkills 2023 competition. It was magnificent to end a term right after a competition, and the week proved to be unforgettable. Guillaume Suteau from France was named the new Chair of WorldSkills Europe. He has served on the Board since 2015. One of the new administrative features is that only a person who has served on the Board and who understands the operating culture of the organisation may be named Chair. None of us is irreplaceable and accordingly, I passed my task to Guillaume with confidence. He knows what is best for WorldSkills Europe.
The work towards our common goal continues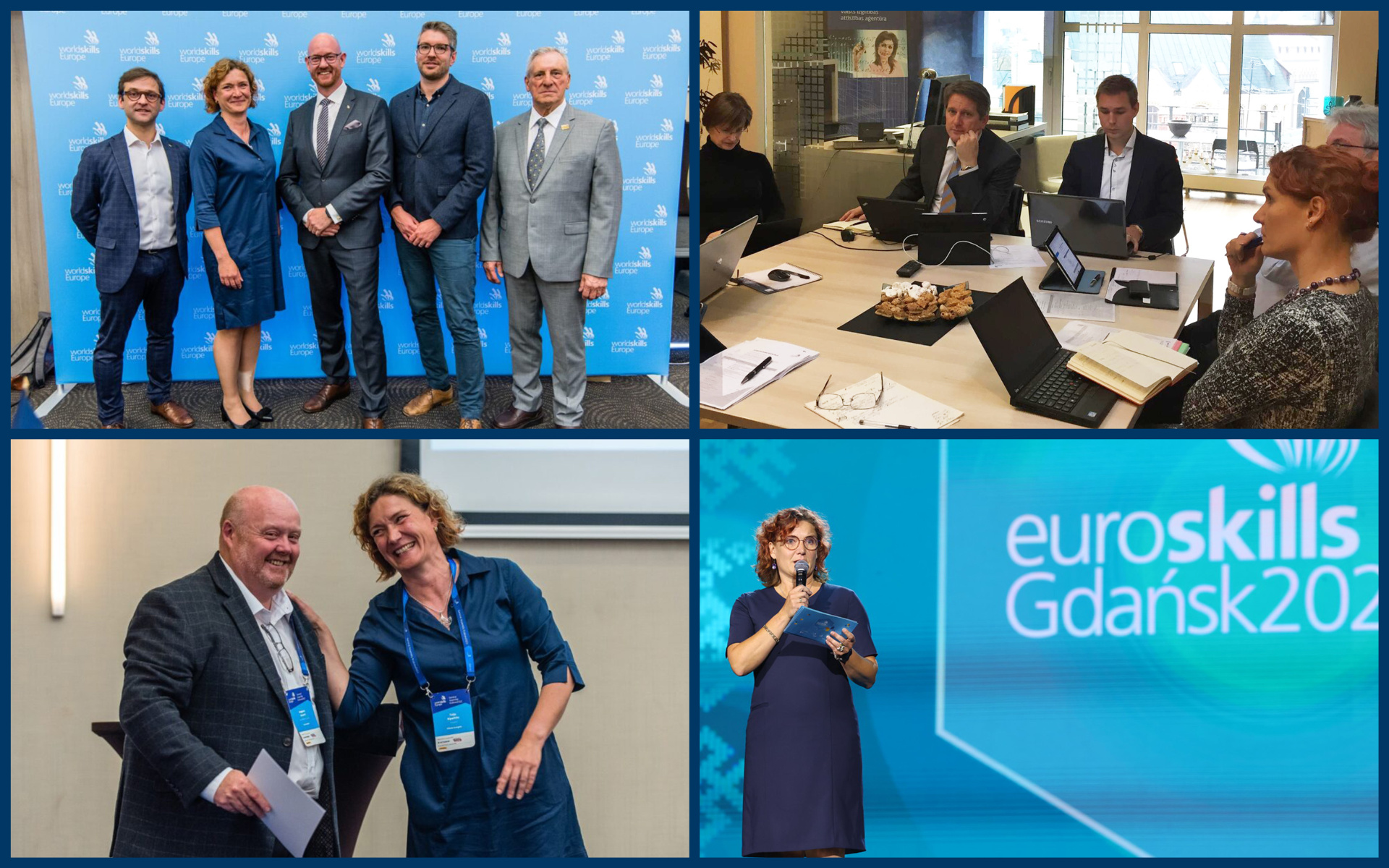 Upper row, left: The "Dream Team" with Teija. Upper row, right: The early years of WorldSkills Europe. Pictured Laurence Gates and Jos de Goey among others. Lower row, left: Eugene Incerti from WSE Secretariat together with Teija. Lower row, right: Speech at the Opening Ceremony of EuroSkills Gdansk 2023.
Now I can only wonder where those 9.5 years on the Board went. At that time five different people have served as Chair of the Board. This could be seen as being indicative of the fast pace of the organisation and the changes that have occurred in it. The years taught me much at a professional level, but also on personal level.
Nowadays I love writing and giving speeches of different kinds. I like dealing with difficult situations because I know that I am good at it. I noticed that teamwork suits all kinds of organisations: with WSE Board it was truly educational and efficient. Board members Guillaume Suteau, Patrik Svensson, Ben Blackledge and Terry Cooke formed a real Dream Team with me. The WorldSkills Europe Secretariat could do its own work in peace as the Board focused on its own tasks.
My international network and through that, also the Skills Finland network, grew, and we got new cooperative partners. Appreciation of the skills and knowledge exhibited by Finns has continued to grow. Through the work of the Board we were also able to ensure that WorldSkills Europe and EuroSkills competitions developed in a direction that was right for Finland.
At present I work as the Chief Training Manager in Skills Finland. In addition I work as Finland's Official Delegate for EuroSkills competitions and as Team Leader in WorldSkills. My goal for the future is to also find new challenges in the international Skills field. However, now is the right time for me to piece together what I have experienced and to take a few deep, calm breaths for a little while.
These years have brought me much joy and many happy moments, but sorrow and difficult events as well. Many colleagues have passed away and many new ones have joined. Much has also happened in my personal life. It has been important to keep in mind that it is good to experience other aspects of life as well. When we talk about Skills family and "Skills virus", I wholeheartedly subscribe to those notions. At best we are all part of one big family working towards our common goal, to secure a good future for our young people. I have always seen this as my personal mission, and have kept it in mind for all of these years.