Historic victory for Finland at the Abilympics Competition
The international Abilympics vocational skills competition finished on Saturday with the presentation of medals at the closing ceremony. The Finnish National Team did well in the competition, earning one gold medal and four silver medals. These are the first medals that Finland has won in the Abilympics.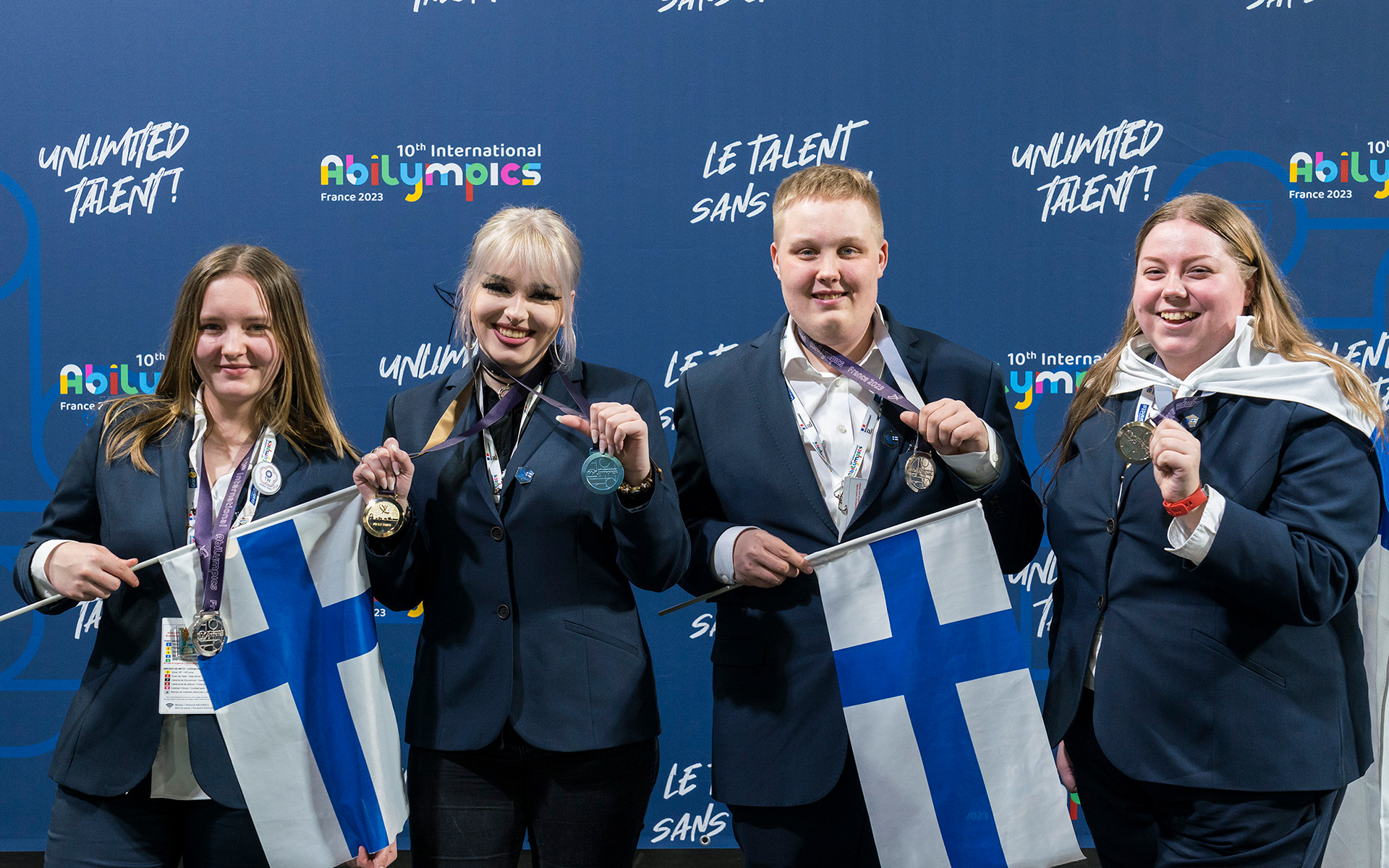 Miia Harpo, Saga Naumanen, Tom Moilanen and Milla Tiira. Photoa: Skills Finland / Juha Nurminen.
Press release Sunday 26 February

Abilympics is an international vocational skills competition for people with special needs. This year, the competition was held 24–25 March in Metz, France. Finland was represented in the competition by 13 talented young students. They competed in skills related to their own vocational fields, such as Landscape Gardening, Photography, Cleaning Services, Cooking and Poster Design.
The two-day competition culminated on Saturday evening with the presentation of medals. This year, Team Finland was showered with medals. These are Finland's first medals in the Abilympics. Finns participated in the competition for the fourth time. The Finnish medallists are:
Saga Naumanen (Luovi Vocational College), gold in Character Design
Miia Harpo (Ammattiopisto Spesia), silver in Cake Decorating
Tom Moilanen (Ammattiopisto Spesia), silver in Landscape Gardening
Jonne Salo (Live Vocational College), silver in Massage
Milla Tiira (Luovi Vocational College), silver in Outdoor Photography
In Character Design, competitors had to design a human of the future.
"I drew inspiration from the cyberpunk genre and the Mad Max films. Victory really surprised me, since my competitors also did a great job", says Saga Naumanen. Naumanen, a second-year student, is planning to work in the games industry.
Participation in the competition is not just a matter of increasing one's own professional competence.
"Challenging myself has been the best part of the competition. In addition to the competition, I've also enjoyed training and making new social relationships. My teammates have become my friends, and we have a great team spirit", Milla Tiira explains.
Tom Moilanen has previously competed in Finland in the Taitaja competition, where he won gold last year in the TaitajaPLUS skill of Property Management. In the Abilympics, Moilanen competed in Landscape Gardening.
"It was surprising to see how similarly things are done in different countries. For example, all competitors chose the same order of progress in their work", Moilanen explains.
"As soon as I got to focus on my own work, it all seemed easy", Jonne Salo reflects. Salo is graduating this year and plans on further studies to become a sports masseur.
Miia Harpo was nervous about her results until the very end.
"I almost panicked at first; I made a mistake when making the cake base and didn't know if I could finish everything in time. It all went well in the end, though. Still, I was surprised to hear my name when the medals were presented", Harpo says.
International Abilympics
The international Abilympics competition was held 24–25 March 2023 in Metz, France. Approximately 400 competitors from 27 countries participated in the competition. The competition had 44 skill categories, and Team Finland participated in nine of them.
Finland has participated in the international Abilympics competition since 2007. The previous Abilympics took place in 2016 in Bordeaux, France.
The participants in Team Finland come from five different vocational institutions. The team consists of competitors and judges from Live Vocational College, Luovi Vocational College, Ammattiopisto Spesia and Kiipula Vocational College.
Further information
Team leader Petri Hämäläinen
Competition Coordinator of Special Needs, Skills Finland
Tel. +358 40 319 3124, petri.hamalainen@luovi.fi
Team leader Anu Kilkku
Tel. +358 40 482 2606, anu.kilkku@inlive.fi
Katja Katajamäki
Communications Manager, Skills Finland
Tel. +358 40 732 0691, katja.katajamaki@skillsfinland.fi