Finland among top three in six skills categories in EuroSkills competition
The Finnish team won an amazing number of medals in EuroSkills Gdańsk 2023 competition that ended today: one gold, three silvers and two bronzes. The team also received awards for higher-than-average score in nine skills categories.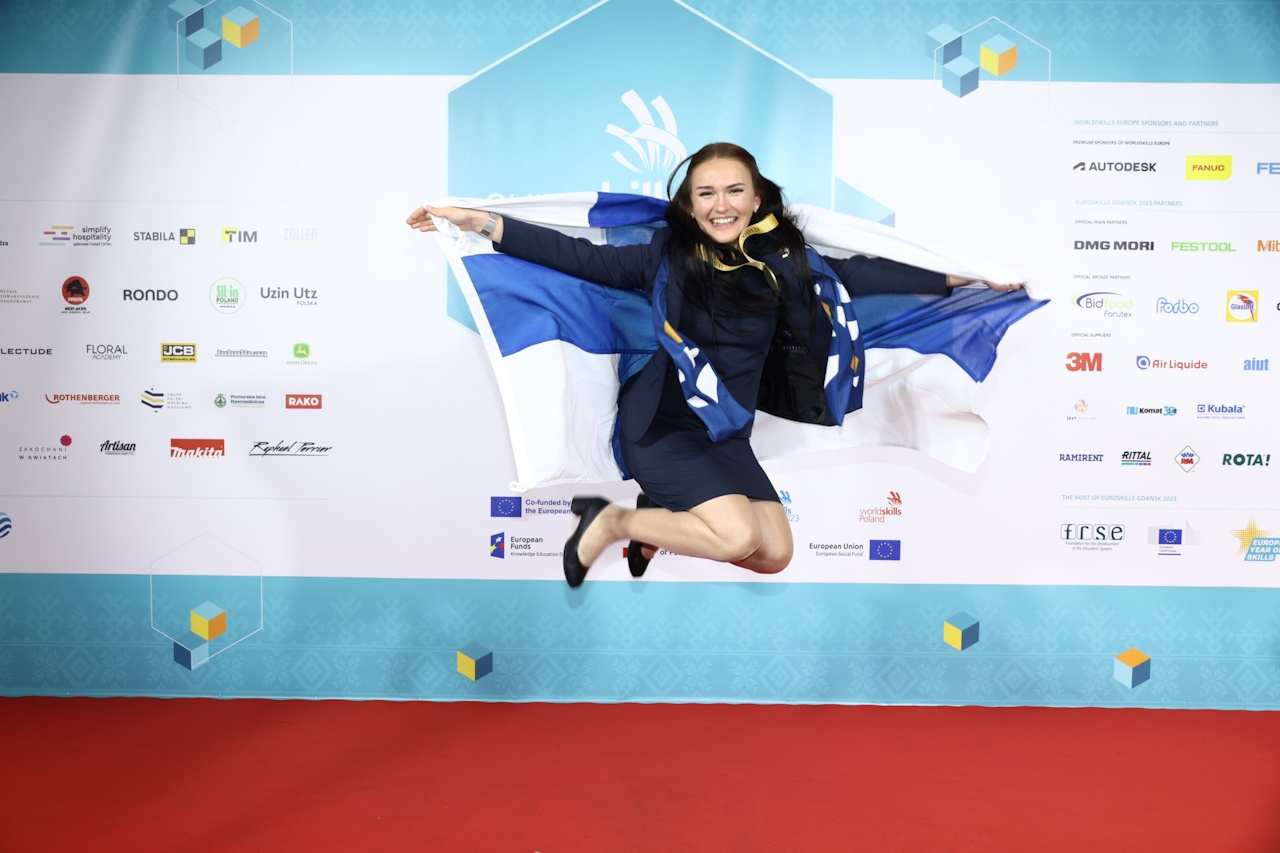 Linn Ahlskog won gold in Health and Social Care at the recent EuroSkills Competition. Photo: Olaf Sawajner / WorldSkills Europe.
The EuroSkills competition took place between 5 and 9 September 2023 in Gdansk, Poland. Twenty-five Competitors from Finland took part in the competition, each of whom is top professional in their own field, aged 25 or younger.
Finnish medallists
Linn Ahlskog (Yrkesakademin I Österbotten), gold in Health and Social Care
Hermanni Huuskonen (Savo Vocational College) and Wilhelmiina Saarijärvi (SASKY Municipal Education and Training Consortium), silver in Landscape Gardening (two-person skill)
Paulus Kivelä (OSAO), silver in Electronics Prototyping
Mirva Alasjärvi (Luksia), silver in Beauty Therapy
Leila Karhunen (Turku Vocational Institute, TAI), bronze in Restaurant Service
Jenna Kattilakoski (Esedu), bronze in Pâtisserie and Confectionery
In addition to the medals, the Medallion for Excellence was awarded to Competitors who achieved a higher-than-average score in their skill. This award was granted to the following members of the Finnish team:
Minna Ala-Penttilä (Vamia), Hairdressing
Hiep Nguyen (Perho Culinary, Tourism & Business College), Cooking
Ilo Pesonen (Luksia), Cabinetmaking
Petra Suominen (Tampere Vocational College Tredu), Graphic Design Technology
Julia Lundell (Turku Vocational Institute, TAI) and Jenna Maukonen (Salpaus Further Education), Fashion Design and Technology Team Challenge
Jesse Eskelinen and Pyry Nordström (Turku Vocational Institute, TAI), ICT Specialists
Teemu Laitinen (Savo Vocational College), Welding
Mikko Motin (Tampere Vocational College Tredu), Plumbing and Heating
Anna-Sofia Tiainen (Riveria), Car Painting
EuroSkills Gdańsk 2023
The EuroSkills Gdansk 2023 competition comprises a total of 43 skills representing different professions in vocational education, ranging from practical nurses to welders and from chefs to electricians. There are nearly 600 Competitors in total.
Skills Finland sends the Finnish team to the competition in cooperation with vocational institutions. In addition to the Competitors, the team includes 22 Experts who serve as judges in the competition. The Experts are often vocational teachers, and training for the competition is carried out in cooperation between vocational education and employers.
Finland participates in the EuroSkills competitions to develop Finnish excellence and to improve European cooperation in vocational education and training. In addition to the EuroSkills competition, the national team also participates in the international WorldSkills and Abilympics competitions.
Skills Finland is a non-profit association that promotes the quality and attractiveness of vocational education and training through competitions and coaching. In addition to participating in international competitions, Skills Finland organises the National Skills Competition Taitaja. Supporters of the association established in 1993 include the Ministry of Education and Culture, the Finnish National Agency for Education and vocational institutions as well as key labour market and educational organisations.