A warm thank you from the WorldSkills Helsinki Team
The WorldSkills Competition in Helsinki was a success made possible by a solid network of multiple operators in vocational education and training.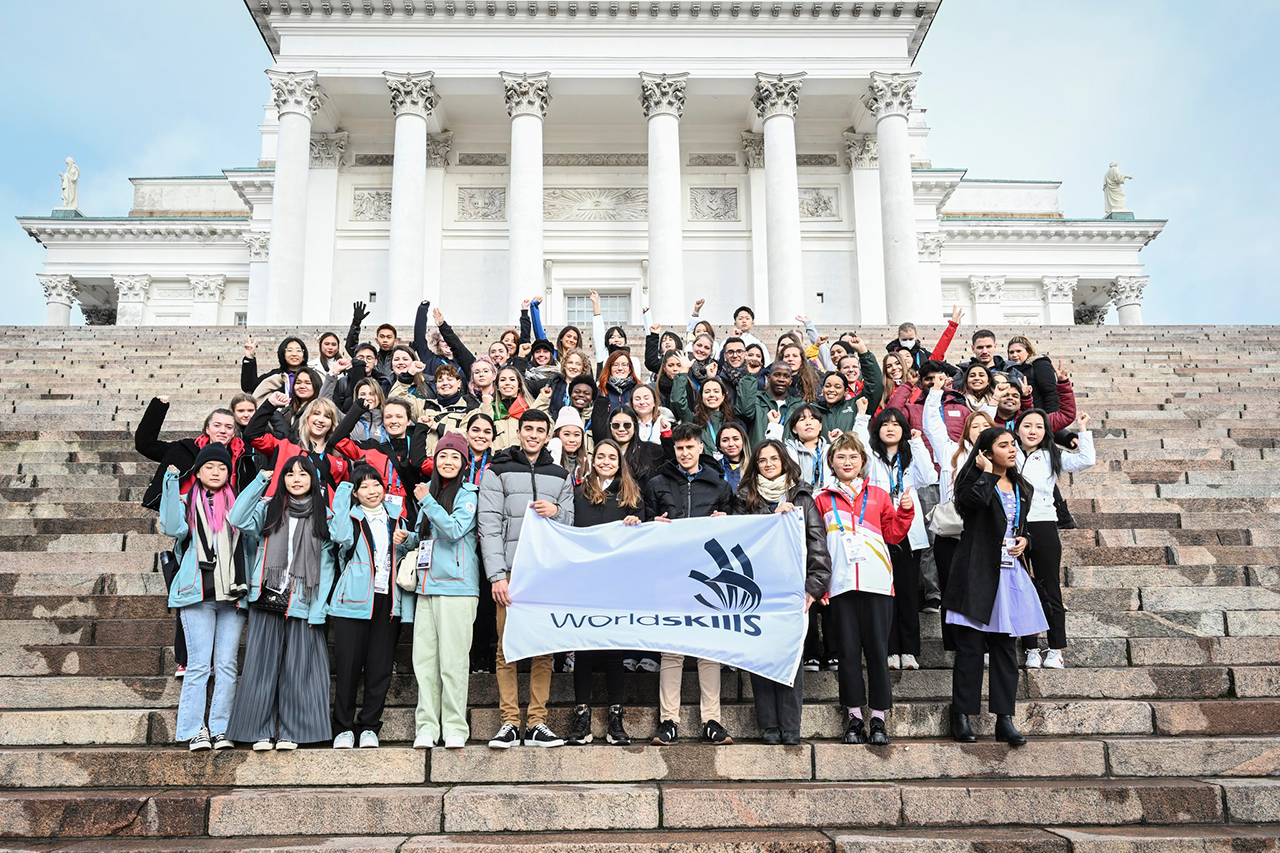 Over 70 WorldSkills Competitors in Helsinki.
The 62 Skills categories in the WorldSkills Competition 2022 Special Edition are organised in 15 countries all around the world during the autumn. As one of the hosts, Finland organised the competitions for four Skills in Helsinki between 20 and 23 October. The Skills in Finland were Hairdressing, Beauty Therapy, Floristry and Fashion Technology.
Maria Ekroth, CEO of Skills Finland: "This was a unique opportunity to bring the world championship competition to Finland as we do not currently have sufficient capacity to organise the whole event. We made Finnish VET and competition activities a visible part of the WorldSkills network of 85 countries and were able to welcome Competition guests from all over the world. We hope that the high visibility of the event will highlight the great opportunities to compete and learn that vocational studies also make possible at the international level."
The plans for the event that was built with a rapid schedule only began in summer 2022, when WorldSkills International announced that it would not be possible to organise the competition under one roof in Shanghai in October 2022.
The Helsinki event was a joint effort in which several extra pairs of hands were needed. The event was made possible by the Ministry of Education and Culture in Finland and numerous VET providers, partners, and sponsors.
"We all wanted to succeed together and we did it. We can be truly proud of the outcome and that we could be part of the solution for the decentralised competition and offer the opportunity to participate in the WorldSkills Competition to Competitors in four Skills", Maria continues.
Hundreds of international guests visited Helsinki in connection with the Competition, for example, as Competitors, Experts and their support teams. In addition, several people from other countries' Skills organisations and from WorldSkills International familiarised themselves with the Helsinki Competition.
In addition to international guests, the event attracted thousands of Finnish visitors, such as visitors to the I love me expo, student groups, and stakeholders of Skills Finland.
Skills Finland warmly thanks everyone who visited the event and the parties that made the event possible!