Taitaja Through the Ages
The event has been held annually in different parts of Finland since 1988. The locations have included Hämeenlinna, Turku, Oulu, Helsinki, Lahti, Imatra, Jyväskylä, Joensuu, Seinäjoki, Helsinki and Tampere... and the triumphant story continues!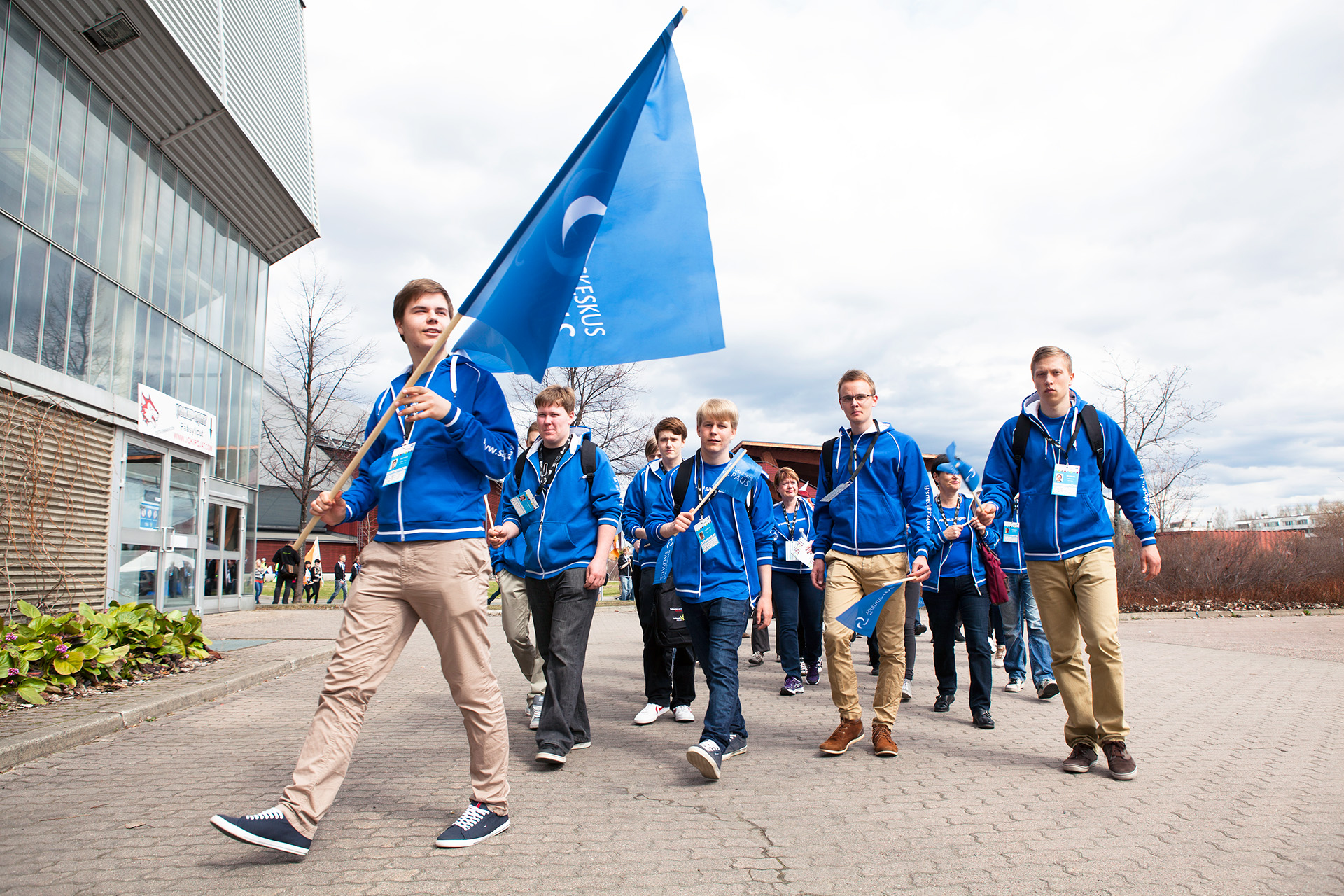 The Taitaja event was organised for the first time in 1988. In the photo, the Salpaus Further Education team is on its way to the opening ceremony of the 2013 event in Joensuu. Image: Antti Varonen / Skills Finland.
Future Events
The Finnish VET providers have agreed on a rotation of Taitaja in different parts of Finland until the year 2033. This enables the long-term collaborative development of the event. The next events are in 2024 Kuopio, 2025 Turku, 2026 Seinäjoki, 2027 Lahti, 2028 Joensuu, 2029 Tampere, 2030 Helsinki, 2031 Vaasa, 2032 South Eastern Finland, 2033 Lapland.
Previous Taitaja Competitions
Taitaja2023 Espoo
Results (pdf), in Finnish
Taitaja2022 Pori
Results (pdf), in Finnish
Taitaja2021 Oulu
Results (pdf), in Finnish
Taitaja2020 Jyväskylä
Due to coronavirus pandemic the event could not be organised.
Taitaja2019 Joensuu
Results (pdf), in Finnish
Taitaja2018 Tampere
Results (pdf), in Finnish
Taitaja2017 Helsinki
Results (pdf), in Finnish
Taitaja2016 Seinäjoki
Results (pdf), in Finnish
Taitaja2015 Turku
Results (pdf), in Finnish
Taitaja2014 Lahti
Results (pdf), in Finnish
Taitaja2013 Joensuu
Results (pdf), in Finnish
Taitaja2012 Jyväskylä
Results (pdf), in Finnish
Taitaja2011 Kuopio
Results (pdf), in Finnish
Taitaja2010 Oulu
Results (pdf), in Finnish
Taitaja2009 Vaasa
Results (pdf), in Finnish
Taitaja2008 Espoo-Uusimaa
Results (pdf), in Finnish
Taitaja2007 Joensuu
Results (pdf), in Finnish
Taitaja2006 Tampere
Results (pdf), in Finnish
Taitaja2005 Turku
Results (pdf), in Finnish
Taitaja2004 Seinäjoki
Results (pdf), in Finnish
Taitaja2003 Jyväskylä
Taitaja2002 Imatra
Taitaja2001 Lahti
Taitaja2000 Helsinki
Taitaja1999 (Split between different regions)
Taitaja1998 Hämeenlinna
Taitaja1997 Turku
Taitaja1996 (Split between different regions)
Taitaja1995 (Split between different regions)
Taitaja1994 (Split between different regions)
Taitaja1992 Hämeenlinna
Taitaja1990 Hämeenlinna
Taitaja1989 Hämeenlinna
Taitaja1988 Hämeenlinna
---