WorldSkills Competition 2022 Special Edition
WorldSkills competition will be hosted in 15 countries during the fall of 2022. Four of the skills will be held in Finland on October 20-23, 2022.

The world championships of vocational skills, WorldSkills Competition, will be held as a Special Edition event during the fall of 2022. Four skills categories will be hosted by Finland in Helsinki on October 20-23, 2022. The event brings more than 200 Competitors, Experts, and other competition staff to Helsinki from 32 different countries.
The skills categories are:
Floristry
Hairdressing
Beauty Therapy
Fashion Technology
Visit the competition
WorldSkills Competition 2022 Special Edition Helsinki will be organised in Helsinki Expo and Convention Centre (address: Messuaukio 1) close to Pasila train station, just a few minutes train ride away from the city centre of Helsinki. The competition starts on Thursday October 20 and the final competition day will be Sunday October 23.
The competition site will be open for visitors (no entrance fee). The official entrance door for the competition is 4.4.
Competition timeline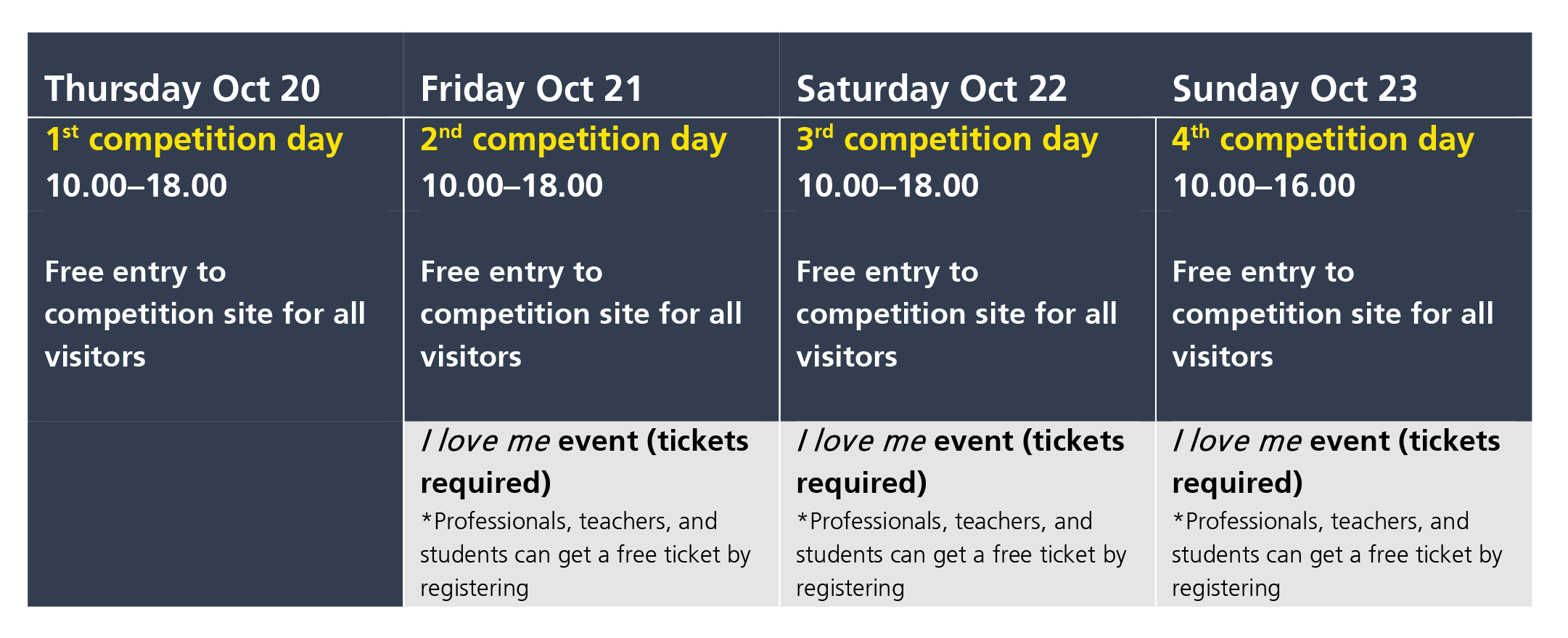 I love me event on October 21-23
I love me event will be organised on October 21-23 adjacent to the competition. I love me is the largest beauty and well-being event in the Northern Europe, focusing on well-being, health, beauty, and fashion. I love me event has around 50 000 visitors yearly.
How to get tickets
Please notice that there is a free entry to the WorldSkills competition site for all visitors.
If you wish to visit the I love me event on October 21-23 you can buy tickets onsite, or in advance through this link.
Registering for the event as a professional
As a beauty, hair, fashion, or floristry professional (incl. importers, teachers, and students) you can visit the I love me event free of charge by registering in advance.
Subscribe to the I love me newsletter to receive a registration code for free entrance.
Note that other professionals, teachers, and students need a ticket to enter I love me event.
About WorldSkills competitions
The WorldSkills competition is an international vocational skills competition for young people that is held every two years. The competition decides the world champion for around 50 different skills categories representing a range of vocational education and training sectors. In Finland the vocational skills competitions are coordinated by Skills Finland, that represents the country in WorldSkills International (WSI). WSI administers the WorldSkills competitions and grants rights to host the competition. It has around 80 member countries from all over the world.
The WorldSkills Shanghai 2022 event, that was originally planned to be held in China in October 2022, was cancelled due to Covid, and will now be hosted by 15 different countries all over the world during the fall of 2022.
More information
Any questions about the event, the competitions or visiting Helsinki can be directed to
wsc2022@skillsfinland.fi
---